Looking for the perfect home audio system for your Westchester NY home? You've come to the right place! Smart Homes of Westchester has everything you need to create the perfect audio experience. From speakers and receivers to cables and adapters, we have everything you need to get the most out of your music. Plus, our experts are always happy to help you design and install the perfect system for your needs. We carry all the biggest brands, including Anthem AV, Legacy Audio, Paradigm and Sonos, so you know you're getting quality products. Plus, our competitive prices make it easy to upgrade your audio system on a budget! Come see us today and start enjoying your music like never before!
We all know how confusing it can be when faced with the broad term "home audio". From all the different brands to all the different systems and features, that's why we created this page, to help ease your mind. We also know we cant explain everything here and that's why our team is here to help you make sense out of all the noise. So scroll down for a quick overview or call us up if you have any questions! You can also visit our amazing experience center filled with many different speakers, components and accessories, so you will know exactly what to expect once it is all professionally installed.
Headphones are a very popular form of audio equipment because they provide clear and immersive sound while also allowing you to tune-out the rest of the world. Headphones also come in many different shapes and sizes, with every type of design suited to a specific purpose. Sports earbuds are designed for running or swimming while on-ear models provide excellent noise isolation so you can enjoy your favorite TV show without being disturbed or disturbing others around your home -
High-end audio is the purview of those who seek out quality in their music. These systems usually include precision turntables, massive amplifiers and detailed speakers. This is all geared towards critical listeners looking for top notch sound from every instrument played on an album! Today turntables and vinyl records are more popular than ever because they create a true audio experience, reminiscent of times past, when listening was an art form rather than just entertainment value. We hope you to stop in and hear this experience for yourself.
There is nothing more immersive than surround sound but understanding home theater sound can be complicated and overwhelming, but our friendly staff is here to help you understand all the different types of technologies and terms like Dolby Atmos, 7.2 surround, DTS and many others. So don't worry about how everything works because our experts will give you an adequate grasp on things before giving recommendations based off your individual needs/wants.
The idea of having music play throughout your entire home, including outside is nothing new. In recent years there has been a rise in popularity for multi-room audio systems like Sonos that give you the ability to enjoy high quality sound from any device anywhere within range using an app on your phone or tablet!
What makes this system so great? Well not only will it fill up all corners of your home with stellar tunes but it is also able to expand as needed over time when you are ready.
WHAT ABOUT SPEAKER OPTIONS?
Speaker selection is one of the most important decisions you will make when it comes to setting up your home audio system. There are many options available, including the common in-wall, in-ceiling, bookshelf, and floor standing models. If you have been shopping around you may have also seen invisible speakers and sound-bars to upgrade your TV mounting as well. Whichever solution you are looking for Smart Homes of Westchester NY offers high quality brands with expert installation.
Looking for a speaker that disappears into your walls and ceilings? Look no further than National Smart Home and Sonos! Our in-wall and in-ceiling speakers are perfect for any home, new or old. With a variety of sound quality options to choose from, you can find the perfect speaker for each room in your house. As an example, you would probably want a better quality speaker in the kitchen or living room where you spend the most time as opposed to a more budget minded speaker in spaces where you may want some background sound. Also keep in mind, In-wall speakers are usually installed in home theaters and media rooms for better "directional" sound. Either way, our selection of in-ceiling and in-wall speakers are designed to be heard - not seen - so you can enjoy great sound without ruining the aesthetics of your home.
BOOK SHELF &


FLOOR STANDING
"Box speakers" as they are often referred to, are the only speakers acceptable for high-end listening because of the way they are manufactured and calibrated. It is extremely difficult, if not impossible to get audiophile sound from an in-ceiling, in-wall or other types of speakers. This is because of the calculated air-space designed for each driver in the cabinet. The downside is the amount of space they take up and an absolute nightmare for interior designers. If you are looking for unmatched sound in a smaller space, a smaller version of floor standing speakers are their bookshelf counterparts. These are perfect for office spaces and bedrooms where you want amazing sound but do not have the space for floor standing models. Floor standing speakers are the pinnacle of home audio hi-fi, handling a lot more power and dispersing a larger range of the frequencies we are able to hear. These speakers will have you listening to your favorite music like you are hearing it for the first time.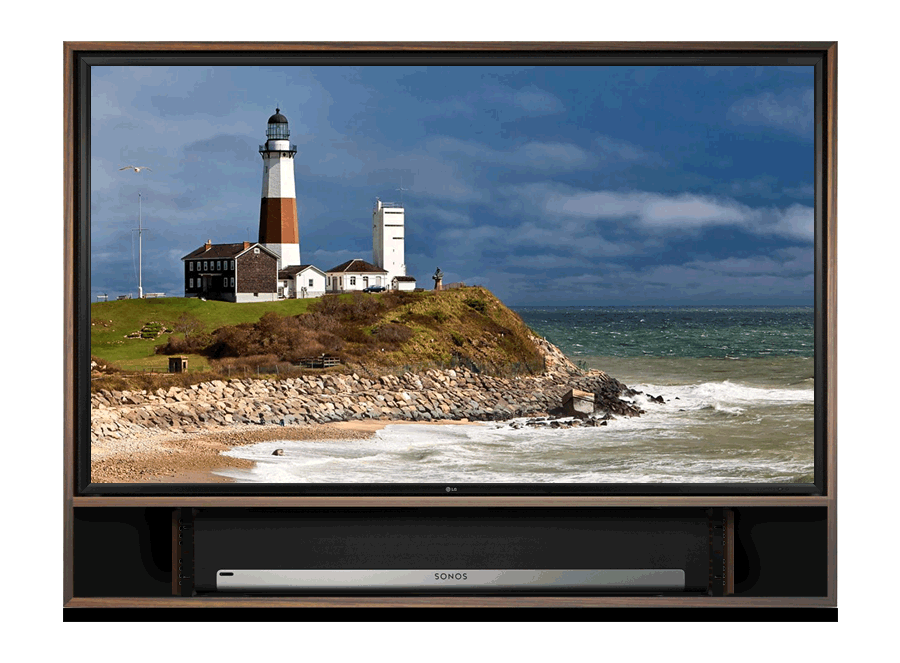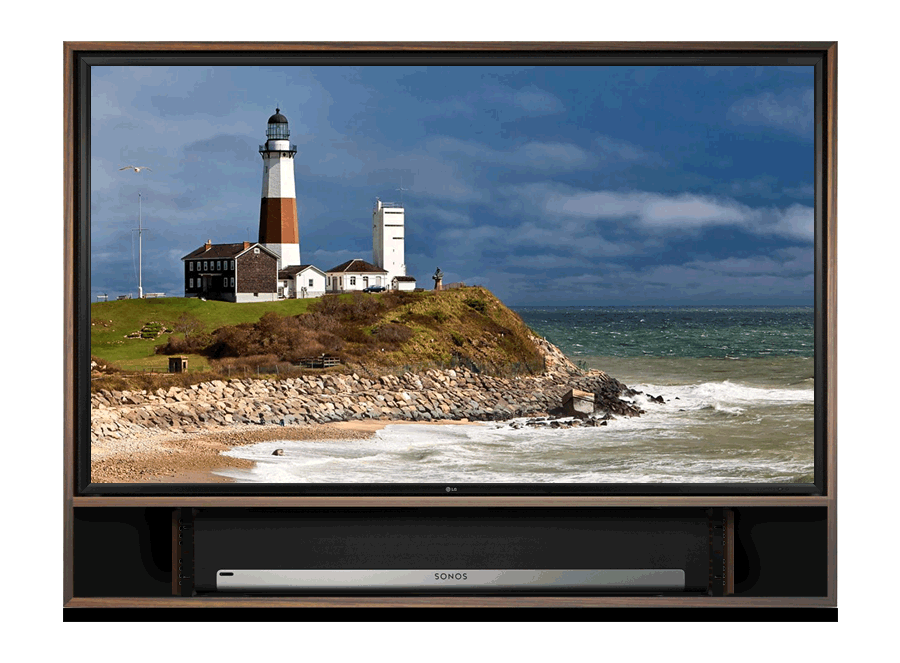 Sound bars are an affordable and easy way to get better sound without the bulk of a traditional surround system. A Soundbar System can be placed under or over your current television set, depending on personal preference for style as well flexibility in placement. They can also be custom made so no matter what size TV you have it will look and sound amazing! Sound-bar installations have become as common place as mounting a TV because televisions today have become increasingly larger but because of their thin design it is impossible to get a matching speaker in them. The only way to match the audio experience with the video experience is either with a full surround sound system or soundbar. We do not recommend them for dedicated home theater rooms but they can really make the difference when you want to be immersed in your favorite TV show or movies. They can also be added to your whole home audio system like Sonos or HEOS.
Surround sound is what you need for a true life-like audio experience in your home theater room. Sound engineers use digital signals and codecs in movies, games and concerts because they want the listener to feel like their actually inside the content playing out on the screen. In order to achieve this, you must have multiple speakers placed in a specific positions around an isolated room. They can be a combination of floor standing, in-wall, in-ceiling Speakers (Atmos) And at least one Subwoofer. The center channel handles about 80% of the audio content (which is what you see on the screen) the surrounding speakers and in ceiling speakers give audio signals coming from different areas off the screen, like foot steps coming from behind or aircraft flying over head, you get the picture. The subwoofer is non directional but gives your the life like low end of explosions and deep vibrations that amaze. When a surround sound system is installed and calibrated correctly your hair will stand on end just from the audio experience alone.
​
For the ultimate in interior design, invisible speakers are the clear choice. There are several reputable manufacturers that have just about perfected the experience of great sound without being visually obtrusive. They are not going to give you the incredible sound capable of floor standing speakers but they will definitely surprise any hi-fi listener. These speakers must be planned before the sheet-rock goes up and come in many different sizes depending on the room and application. We also have invisible subwoofers to match. You will never be able to tell where they are but you will surely know they exist when you turn on your favorite playlist.
We hope you now have a better understanding of all the different home audio solutions and we are always right here if you have any questions. Our Westchester NY showroom is also a great place to learn and hear all the different types of speakers and components. We invest more than most in our demo rooms because we think it is important that you get to experience what ever you decide to invest in. Call us today to book your listening experience and discover what great audio sounds like on any budget.
NSHis your home audio installation experts for Westchester NY. We provide expert design installation, programming and service in and around the following areas:
Amawalk

Ardsley

Ardsley On Hudson

Armonk

Baldwin Place

Bedford

Bedford Hills

Briarcliff Manor

Bronxville

Buchanan

Chappaqua

Cortlandt Manor

Crompond
Cross River

Croton Falls

Croton On Hudson

Dobbs Ferry

Eastchester

Elmsford

Goldens Bridge

Granite Springs

Harrison

Hartsdale

Hastings On Hudson

Hawthorne

Irvington
Jefferson Valley

Katonah

Larchmont

Lincolndale

Mamaroneck

Maryknoll

Millwood

Mohegan Lake

Montrose

Mount Kisco

Mount Vernon

New Rochelle

North Salem
Ossining

Peekskill

Pelham

Pleasantville

Port Chester

Pound Ridge

Purchase

Purdys

Rye

Scarsdale

Shenorock

Shrub Oak

Somers
South Salem

Tarrytown

Thornwood

Tuckahoe

Valhalla

Verplanck

Waccabuc

West Harrison

White Plains

Yonkers

Yorktown Heights